World BASC Organization (WBO) launched the worldwide update of the BASC Norm and International Standards Version 6 – 2022, transmitted live from the headquarters in Miami, Florida, through the Zoom Webinar platform with more than 1,500 people connected and live streaming from the Organization's YouTube channel.
Representatives of the more than 4,000 BASC member companies in 15 countries attended the global launch, as well as executive directors and team members of the BASC chapters. Being faithful to the agreements that WBO has with different organizations, various customs authorities and its AEO programs were present as special guests, including: The World Customs Organization – WCO, represented by its Deputy Secretary General, Mr. Ricardo Trevino, The United States Customs and Border Protection (CBP), represented by Mr. Manuel Garza, Director of the CTPAT Program, the Superintendency of Customs of Guatemala (SAT), represented by Mr. Werner Ovalle, and the General Directorate of Customs of the Dominican Republic (DGA), Represented by its Director General, Lic. Eduardo Sanz Lovaton.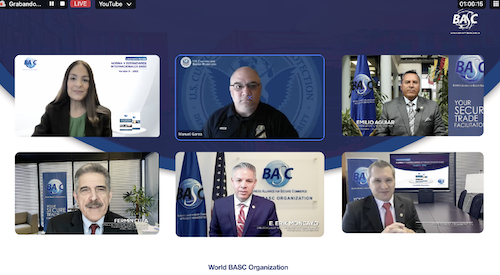 The launch program was designed to cover various topics, alongside with the technology deployed during the event, which enabled participants to learn about the most significant changes included in the sixth version of the BASC Norm and International Standards, that follow the work that stems from the signing of the Joint Statement and Action Plan between the U.S. Customs-CBP and WBO, implemented just a year ago, based on the integration of the Minimum Security Criteria of the CTPAT program. These new concepts are based on risk management and elaborated in conjunction with the WCO, and integrates new topics as forced labor, agricultural security and cybersecurity, business operating processes not related to cargo, reporting of suspicious activities related requirements, as well as the enforcement of corporate ethics and safety statement policies. 
After two years of preparations, consultations and collaborative work between the WBO Technical Committee and the BASC Chapters, World BASC Organization has succeeded in updating, based on the experiences and applicability of its own model, the sixth version of its International Norm and International Standards. Featuring the highest International Trade security standards that benefit the International Trade community, arising as a product of the commitments generated with the governments, customs, control authorities and international organizations with which it cooperates.
The BASC Norm and International Standards is available through WBO and the BASC Member Chapters for certified and certifying companies. Contact your BASC chapter for more details and information.
The following link will allow you to see the video memory of the Global Launch of the BASC Norm & International Standards V6-2022